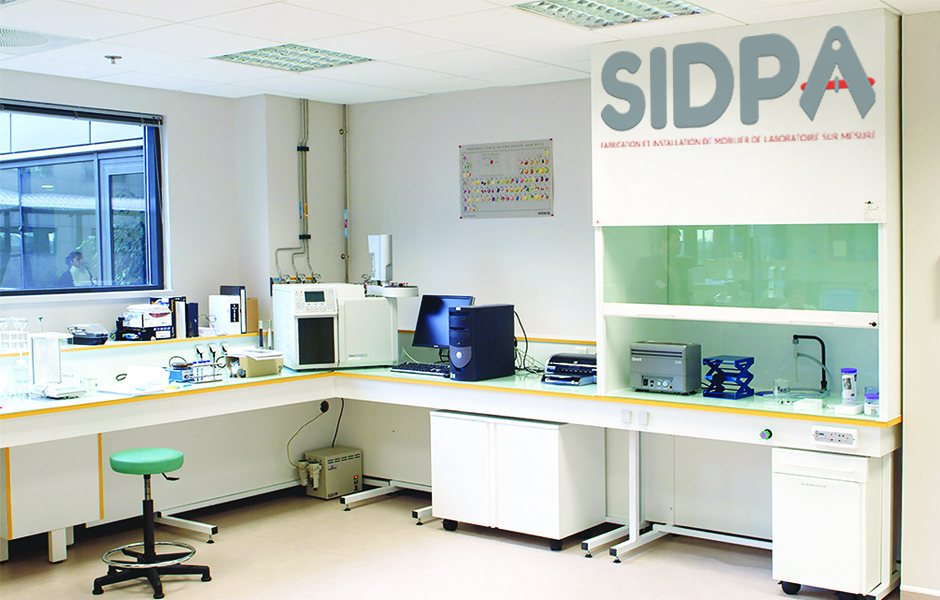 Our company can advise you on which product to choose, how to lay out your premises and on compliance with current standards.
Characteristics of SIDPA France fume cupboards
New european certification standard EN 14157
Inner chamber: 19mm thick water repellent white melamine panel, M2 flame resistance rating.
Sides may be glazed, fixed or sliding. A fume cupboard with sliding glazed sides does not comply with the EN 14175
Vertically movable sash
In 8mm thick toughened glass with automatic blockage 400mm above the worktop, manual override to pull down further. Cable and pulley system with safety arrestor.
Lighting
Fluorescent tube protection grade IP 55.
Alarm
Electronic alarm that complies with the standard that demands a measure of confinement corresponding to a specific air flow, with or without a frequency variator. Audible and visual alarms warn the user of insufficient air flow.
Soundproofing
Using a soundproof box, on request.
Filtration
Using solvent filter or gas scrubber. Purification by recycling tank.
Control
Of installations before use, certificate of conformity issued after the check. Annual check-up on request.
Overhead fume hood
Overhead hoods include:
• a mechanically soldered frame in 30 X 30 square tubing
• 2 sides, 1 internal ceiling, 1 front in 19mm white waterproof melamine
• Ø 200 or 250 machining on the inside ceiling
• lighting may be added
Overhead hoods are hung on the ceiling by height adjustable cords and fixed to the wall
Self supporting hood
Self supporting hoods have:
• 2 sides in 19mm thick white waterproof melamine that rest on the workbench
• 1 1 internal ceiling, front in 19mm thick white waterproof melamine
• 1 Ø 200 machining on the inside ceiling
• lighting may be added
We ensure an after sales service within 48 hours to 2 weeks, depending on the gravity of the problem.
This service is free when the product is under guarantee.