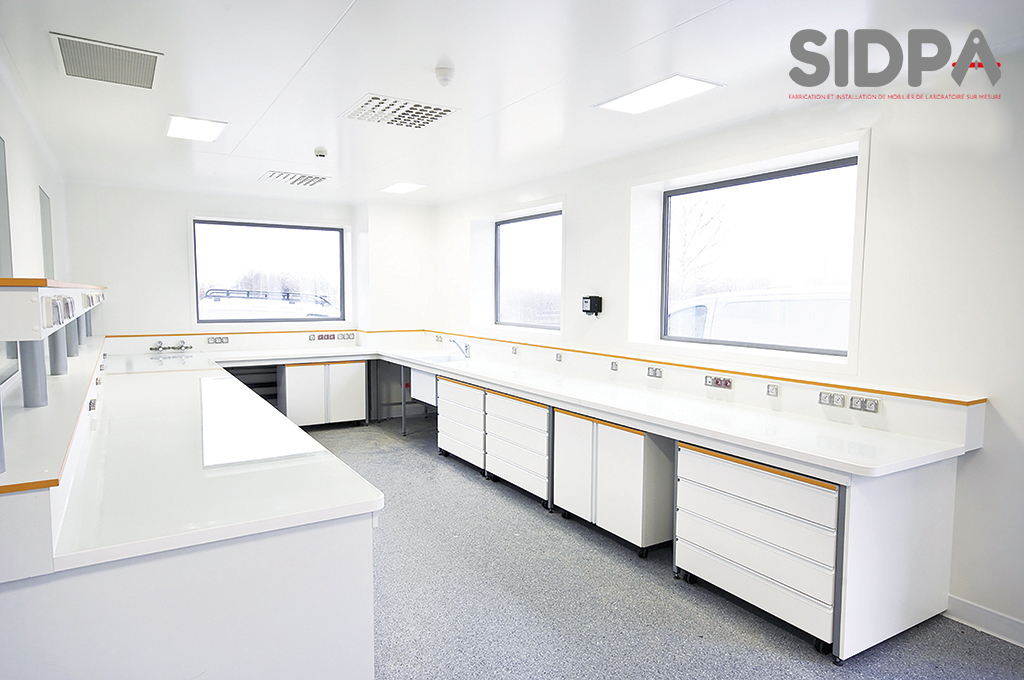 With 25 years of experience in the field, we fit our workbenches to suit the layout of your laboratory and your premises to the very highest standards, thanks to our qualified fitters. SIDPA France draws up an estimate corresponding to your specifications and advises you on the choice of materials.
Workbench description
Support structure
Square bore tube 30 X 30, 2mm thick, SN 102 quality, with 12mm diameter H-type hydraulic height-adjustable legs, attached to the horizontal crosspieces:
– Two crosspieces at the top
– One back crosspiece at the bottom, that rests against furniture, where applicable.
Degreasing and polyurethane protective paint in 6 basic colours from the RAL colour chart.
Splashback
On the back of the worktop, a 140mm high splashback in 19mm thick water-repellent white melamine with white PVC edge for installation of electrical sockets or remote controls.
Surface
To be chosen according to laboratory usage:
– Physics: Laminate, Trespa
– Chemistry: Sandstone tiles, PPH, PVC
– Biomedicine, bacteriology: Enamelled (tempered) glass, synthetic resin
– Washing plant: Solid PPH, stainless steel
– Radioactivity: Synthetic resin, stainless steel
Back panel
Back panel or box, fixed on the wall behind the worktop, in 19mm thick water-repellent white melamine, 180mm high, for installation of electrical sockets or fluids.
Shelf
In 19mm thick water-repellent white melamine, fitted above the back panel. The shelf is 70 or 190mm wide depending on the type of workbench and is fixed with invisible brackets and PVC edging. Colours can be chosen from the RAL colour range.
We ensure an after sales service within 48 hours to 2 weeks, depending on the gravity of the problem.
This service is free when the product is under guarantee.